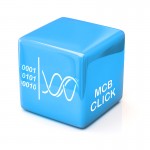 MCB-CLICK-CAN
MCB-CLICK-CAN makes possible contactless acquiring of signals (and data) from car's CAN-Bus. Module reproduce signals from CAN-Bus without physically/electrically contact. For this reason module only "read" data and 'technically" isn't possible to send "something" to car's databus.
Outputs of the module are wires with "identical" signal like on databus of car. Signal obtained in this way can be connected to any, 3rd party device which require CAN-Bus signal on input side.
This solution protects against errors of connection 3rd party devices to the databus of car and also against "formal problems" from producer/warrantier of car in subject "possible interferences to signal system of the vehicle".
Kit contents
Main module

1 pc

Signal cables harness

1 pc

Zippers

1 set
Module functions
Digital signals contactless reading
Data acquisition from J1939 (CAN-FMS)
Data acquisition from J11708 bus
Technical data
Range of power supply voltage
6...36 V
Current consumption
(for 12V) 5 mA
Operating temperature
-40...85 °C
Enclosure dimensions
43 x 40 x 9 mm
Ingress protection rating
IP40