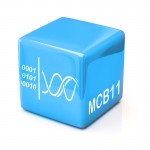 MCB11
MCB11 module is dedicated for acquiring and processing of digital data transmitted in data buses J1708 and J1939 used in trucks branded by Volvo and Renault. Module converts digital data (from above data buses) and transmit them to serial port RS232 / UART.
Module MCB11 is dedicated for telemetry transmitters which have as input ports J1939 (CAN-FMS) or RS232 / UART.
Device have 3 mode of operations.
Module configuration (or firmware update) is possible with Bootloader and dedicated cable using PC with Windows system and (free of charge) software.
Kit contents
Main module

1 pc

Signal cables harness

1 pc
Module functions
J1708 to CAN-FMS standard(J1939) data conversion
CAN-Bus to RS232(standard) data conversion
CAN-Bus to UART(standard) data conversion
Data acquisition from J1939 (CAN-FMS)
Data acquisition from J11708 bus
Module features
Device configuration using PC via Bootloader
Firmware update possible with PC via Bootloader
Supported CAN-Bus bit rate
250 Kbit/s
Data received from J1708 bus
Acceleration pedal position
Fuel level in the fuel tank
Technical data
Range of power supply voltage
6..36 V
Current consumption
(for 12V) 8 mA
Operating temperature
-40...85 °C
Enclosure dimensions
45 x 55 x 18 mm
Ingress protection rating
IP40
Configuration software & Drivers