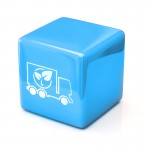 EDA01
The goal of EDA01 is to support the driver in applying of good practices concerning ecological and economical driving. Module constantly (this is very important - "live action") acquire data from CAN-Bus of vehicle and analyse them according to build-in algorithms and configured parameters (as expect Client). After exceeding the treshold values of parameters and/or acceptable latency - on display will be presented suggestions, warnings or alarms for driver. The key here is immediately "return" information to the driver what at once joining "reason" and "result" for identify and evaluation own activity.
Module have 3 "analogue" outputs signalling "ECO-status" and by this way is possible basic integration with practically any fleet management systems.
EDA01 is a standalone device - but in cooperation with telemetry transmitter QRT02 is possible full and very detailed monitoring of ECO parameters of the vehicle. Additionally for above set is possible remote configuration/correction each ECO parametr.
NOTE: Choosen display should be outlined separatelly.
Kit contents
Main module

1 pc

Signal cables harness

1 pc
Module analog I/O ports
Output: Work status
(3 outputs of ECO status)
I / O ports
Output: UART (0...5V)
(configuration and integration with QRT02)
Technical data
Range of power supply voltage
8...36 V
Rated supply voltage
12/24 V
Operating temperature
-30...80 °C
Enclosure dimensions
51 x 50 x 19 mm
Ingress protection rating
IP40
Configuration software & Drivers