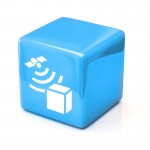 QRT02
Telemetry transmitter is designed for installation in passenger cars like also in truck and vans. QRT02 transmits data (position GPS, many parameters read from CAN-Bus/CAN-FMS of vehicle and from additionally inputs) to the fleet management system.
Device have GPS positioning module, GSM transmission modem, interface to CAN-Bus of vehicle, digital inputs (include counter), analogue inputs, inputs for digital fuel probes and 1-wire interface for measure of temperature or identyfication. For continuous operation of device inside is build-in battery. When is required longer time of operation without powering then is possible to connect external, more capacity battery.
Kit contents
Main module

1 pc

Signal cables harness

1 pc

GSM/GPRS antenna

1 pc

Active GPS antenna

1 pc

Additionally signal wires

1 set
Technical data
Range of power supply voltage
10...36 V
Rated supply voltage
12 V
Current consumption when loading GPRS class 10
80 mA
Current consumption (normal operation without loading of battery)
50 mA
Current consumption in hibernation
(depends configuration) 20 mA
Memory build-in
over 8000 records
Additional memory (option)
(with microSD card 128MB) ca. 250 000 records
Operating temperature
-30 ... 80 °C
Permissible humidity range
95 %
Enclosure dimensions
70 x 55 x 21 mm
The material from which the enclosure is made
ABS
Device weight
(without GPS nor GSM antennas) 80 g
Ingress protection rating
IP40
GMS / GPRS section
Manufacturer and type of module
QUECTEL, M66
Supported ranges
850/900/1800/1900 MHz
GPRS - count of channels
12
GPS section
Manufacturer and type of module
QUECTEL, L70
Localisation precision
<3 m
Time of "cold start"
15 s
Communications ports
UART (0-3V logic) - for configuration (BootloaderQRT required)
RS485 - interface for fuel probes
1-WIRE - iButton(Dallas) reader interface
1 in.
1-WIRE - interface for temperature sensor (Dallas)
2 in. / 1 in. when iButton used
CAN-FMS - standard databus of trucks
CAN-BUS - databus in vehicles
("own" protocols of manufacturers)
Input / output ports
Ignition analogue input (on/off)
1x in. (0 - 36 V)
Analogue inputs with voltage measurement
2x out. (0 - 36 V)
Universal digital inputs
4x in.
Counter input (possible measurement of engine RPM)
1x in. triggered by "rising" edge (5 - 36 V)
Universal control inputs
2x out. (OC type, max 100mA)
Powered output for fuel probes (is keyed)
1x out. (+12V/50mA)
Configuration software & Drivers