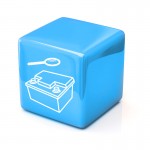 BSM-01
Basic module BSM-01 was designed for inspection of car battery and protection them before over-discharging - particularly by any additionally devices mounted in TOW-trucks, LCV, busses etc.
Module BSM-01 is watching battery voltage and when this drops under programmed value (default 12,2V) then automatically disconnect (up to 8) circuits of electricity receivers. It is possible to self programming of voltage value when recivers circuits should be switched-off.
Module inform own working by buzzer (when switch-off the protected circuits) and by triple colour display which visualize voltage level of battery.
Kit contents
Main control unit

1 pc

Basic integrated cable harness (all-in-1-plug)

1 pc

Information LED indicator (3-colours)

1 pc
Technical data and features
Power supply voltage
12 V
Possibility of voltage programming for switch-off the steered circuits
Visualisation of voltage level the battery
Signalling of switching-off the steering circuits
Number of circuits controlled by switching +12V ("hot")
4
Number of circuits controlled by switching GND ("ground")
4
Max current load for each steering circuit
200 mA