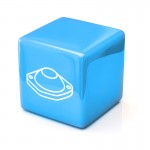 MCB-FMI
MCB-FMI module reads from CAN-Bus of forklift choosen (in configuration) parameter (speed, level of charging the battery or tilting of the forklift mast) and display that value (OK - attention - alarm) on tri-colour LED display. Additionally for alarm range is generated sound signal.
It is possible to completly freely to configure ranges (min and max) for each of display's colour and (separatelly) buzzer signal. In this way is possible continuosly to show the whole range of parameter or only selected "regions" (eg. only near an alarm and exactly alarm).
For programming of MCB-FMI must be used Bootloader with dedicated cable.
Kit contents
Module with integrated display

1 pc

Integrated wire harness (all-in-1-plug)

1 pc
Communications ports
CAN-BUS - databus in vehicles
Module features
Device configuration using PC via Bootloader
Technical data
Range of power supply voltage
9...36 V
Rated supply voltage
12/24 V
Operating temperature
-40...85 °C
Permissible humidity range
<95% %
Enclosure dimensions
80 x 55 x 30 mm
Configuration software & Drivers