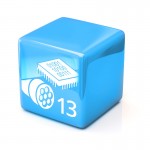 MP2S-CAN-G13
Main module (MP2S-CAN) - in contrast to others - reads inputs data from CAN-Bus of car - not from wires to lamps.Thanks to this count of needed connections under installation time is much less than in case of "typical" modules. More over - main cable harness is already connected with socket - this also makes an installation process easier and faster.
MP2S-CAN-G13 is operate with "full" G13 socket including "permament plus", loading circuit of trailers battery - where module controls when loading circuit of trailer battery should be switched on (only when cars engine operates - more than 10 secs).
MP2S-CAN module supports many of car models present on the European market - but must be configured for concrete type/model of car. It is made by use (optionaly) device Bootloader and software (available for free). Module is equipped with an output for deactivate of parking sensors module (PDC) in car - but for some cars this can be realised "directly".
Note: continious product improvement and electronic components market availability lead MP2S-CAN-XXX MCU (main control unit) to be oferred in a few versions with small changes. However, general module functions depends on a current firmware generation and still the same for each one.
In special cases (when this is required) is possible to make contact-less data reading from CAN-Bus (without "hard" contact - without "phisically integration" with an installation of car) using optionally module MCB-CLICK-CAN.
The kit is equipped with LED-RGY-500 - tri-colour LED indicator which inform about:
connecting of the trailer;
damaging the directions lights on the trailer;
switching-on fog light on the trailer;
loading of trailer battery.
---
Here are short movies about operate MP2S-CAN.
---
Product requires to be installed by specialized workshop - read here.
---
Product's EAN code: 5907662621220
Kit contents
Main control unit

1 pc

Main cable harness with 13-pin socket

1 pc

Signal cables harness (to the CAN-Bus)

1 pc

Power cable harness

1 pc

Realy and socket with connections

1 set

Information LED indicator (3-colours)

1 pc

Mounting set

1 set

Screw set

1 set

Connections diagram

1 pc
Module main features
CAN-Bus vehicle data readout
LED lights and single filament bulbs support (car)
LED lights and filament bulbs support(trailer)
Trailer/camper connection detection (bulb lamps)
Trailer/camper connection detection (LED lamps)
Ability to control of park sensors module in car
Trailer turn signal lamps failure detection
Trailer reverse light control
Permanent power supply to trailer socket
Trailer battery charging circuit
Intelligent charging of trailer battery
Alerts & Notifications
Trailer connection notification
Trailer turn signal failure
Trailer/caravan fog lights switching on/off notification
Trailer battery charging notification
Car rear fog-lights control modes
Trailer fog lights control modes
sequence or direct
Trailer fog light sequential(independent) control
Car rear fog lights cut-off
Features of electric cable harness
Mounted socket on the cable harness
Length of power harness
5,0 m
Length of cable harness to the socket
1,7 m
Length of input signals cable harness
(to CAN-Bus) 5,0 m
Technical data
Power supply voltage
10-18 V
Position lights output power, max
(each of sides) 3 x 5 W
Stop lights output power, max
3 x 21 W
Turn signal output power, max
(each of sides) 21+10 W
Fog-light output power, max
21 W
Reverse lights output power, max
21 W
Trailer battery charging current, max
10 A
Parking sensors output load capacity, max
0,5 A
Kit equipment
Complete bundle of towbar with installation accessories