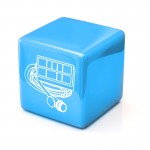 TMP02-G7G13
Universal tester TMP02-G7G13 allows to verify properlies operation of installed towbar kits (any producer). Device checks all signal's circuits for lighting lamps of trailer. Can be used with installations equipped with socket G13 or G7 (using adapter). Additionally is measured voltage on "powered" pins.
Highlights of TMP02-G7G13:
device has build-in circuits of equivalent load what allows to verify operation "under load";
very long (up to 5 meters) wire (from socket to the console) what makes possible to be inside car's cabin with console of tester in hand and to check all circuits/lights simple and fast;
is possible to simulate malfunction of bulbs for each directions lights and stop lights - like also completely disconnect all circuits;
is presented value of voltage for full G13 installation - and is signalled to switch on powering to the pins 9 and 10 ("permanent" and "for charging").
---
Product's EAN code: 5907662621305
Kit contents
Tester's console with 5m cable to the plug G13

1 pc

Adapter from 13-pins to 7-pins plug

1 pc
Technical data
Power supply voltage
12-15 V
Position lights output power, max
(each side) 4 W
Stop lights output power, max
4 W
Turn signal output power, max
(each side) 4 W
Fog-light output power, max
4 W
Reverse lights output power, max
4 W