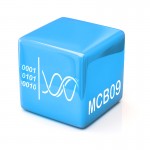 MCB09
NOTE: Module discontinued !
Module is a data converter from CAN-Bus of passenger cars to J1939 standard (CAN-FMS) which is used in trucks. Module allows transmission of telemetry data (like: distance, speed, RPM, fuel level, etc...) from vehicles (different brands and models) to the fleet management system using (GPS) tracker devices (3rd party) with CAN-FMS input only.
Important is that, MCB09 operates CAN-Bus of many vehicles different brands/producers and models.
Module configuration (or firmware update) is possible with Bootloader and dedicated cable using PC with Windows system and (free of charge) software.
Kit contents
Main module

1 pc

Signal cables harness

1 pc
Module functions
Digital signals contactless reading
(possible using MCB-CLICK-CAN)
Car CAN-Bus to CAN-FMS (J1939) data conversion
CAN-Bus to UART(standard) data conversion
(after installation MCB10 firmware)
Data acquisition from J1939 (CAN-FMS)
Module analog I/O ports
Output: RPM status (from CAN-Bus)
Output: Brake (stop light)
Module features
Device configuration using PC via Bootloader
Firmware update possible with PC via Bootloader
Supported CAN-Bus bit rate
33...500 Kbit/s
Number of supported vehicles
~350
Number of parameters acquired from CAN-Bus
~30
I / O ports
Output: UART (0...5V)
(after installation MCB10 firmware)
Technical data
Range of power supply voltage
6...36 V
Current consumption
(for 12V) 8 mA
Operating temperature
-40...85 °C
Enclosure dimensions
45 x 55 x 18 mm
Ingress protection rating
IP40
Configuration software & Drivers